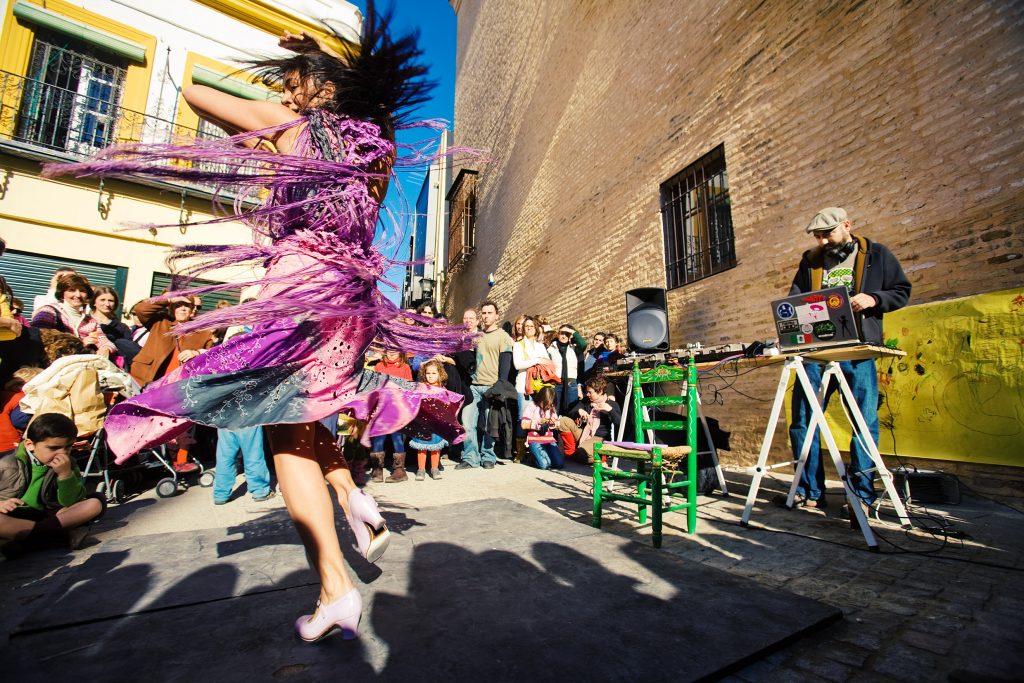 Gabal-Donna & Guassa is a flamenco dance piece performed to the rhythm of music played by a D.J. This is an innovative proposal created to communicate through dance and allow the audience to discover what it is to be moved by music.
With a bold new vision for flamenco dance, Ángeles Gabaldón proves through her creativity that flamenco and break dance are not incompatible while also incorporating electronic music and new technologies in this art form.
Gabal-Donna & Guassa consists of a single dance without a plot. The music maintains 4/4 time and lasts fifteen minutes and twenty seconds. It is inspired by contemporary music and what moves in the human body when a person listens to music. During the piece, melodies of Paco de Lucía, Camarón de la Isla and Bambino are heard, along with Brazilian rhythms, hip-hop and funk. It could be called flamenco break dance. The piece maintains close communication with the audience.
Ángeles Gabaldón takes a step further in her career as a dancer and seduces the audience with her dance and risk-taking in this original piece. It is a daring performance in which Ángeles Gabaldón draws upon the most extroverted feelings in the flamenco art and extracts rhythm to search for it once again amongst other melodies. She fills the stage with color and movement, while her dynamic and energetic choreography uses stylized, contemporary flamenco arm movements. The intention is to reach a point in which the public and the artists enjoy the event together in a collective grand finale.
National Premiere: Festival Cádiz en Danza, Cádiz, 2007
Internacional Premiere: Flamenco Festival  Mont de Marsans, France 2008